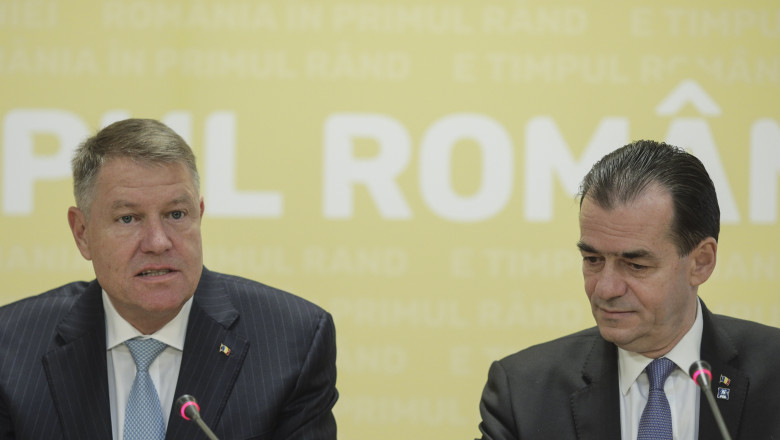 De la noul guvern mă aștept la o implicare totală în așa fel încât la finalul anului 2020 să putem oferi românilor o Românie fără PSD, o Românie fără PSD în conducerea statului, ca să fiu bine înțeles. În conducerea instituțiilor statului nu mai este locul PSD-ului. Am spus-o de multe ori în campanie și o repet ca să reținem împreună: PSD a inhibat dezvoltarea României în ultimii 30 de ani. Și românii au dovedit în acest an că își doresc conducerea României fără PSD. Acesta e un obiectiv care trebuie urmărit în continuare", a spus Klaus Iohannis.
Totodată, Klaus Iohannis le-a cerut celor de la PNL să nu considere că după câștigarea alegerilor prezidențiale au câștigat și viitoarele alegeri și le-a atras atenția că nu vor fi ajutați de alte partide. 

"Nu văd șansa de a se forma alianțe miraculoase anți PSD. Cred în lupta anti PSD, punct. Adversarul este PSD, nu USR", a spus președintele în cadrul ședinței PNL. 
"Să nu n
e culcăm pe-o ureche că am câștigat. Românii nu ne-au votat doar ca să-i schimbe pe cei de la PSD, românii așteaptă soluții", a mai spus șeful statului.
În deschiderea ședinței, în fața presei, Klaus Iohannis a susținut și un scurt discurs, în care a vorbit despre pericolul aroganței care i-ar putea caracteriza pe liberali. 
"PSD a încasat-o de 3 ori în acest an, dar este bine să vă spun că PSD nu a fost înlăturat de la putere decât parțial. PSD are un număr imens de parlamentari, un număr foarte mare de primari și ca atare ne bucurăm de victorie dar autosuficiența ar fi cea mai mare greșeală.



Președintele a mai spus că nu este de acord cu alegerea președinților de consilii județene într-un singur tur, considerând că ar fi mai bine ca aceștia să fie aleși dintre consilierii județeni.

You are not allowed to view links. Register or Login to view.


Apreciezi munca mea? Nu uita sa imi dai like
 
 You are not allowed to view links. Register or Login to view.